What are Natural Patches made by The Natural Patch Co?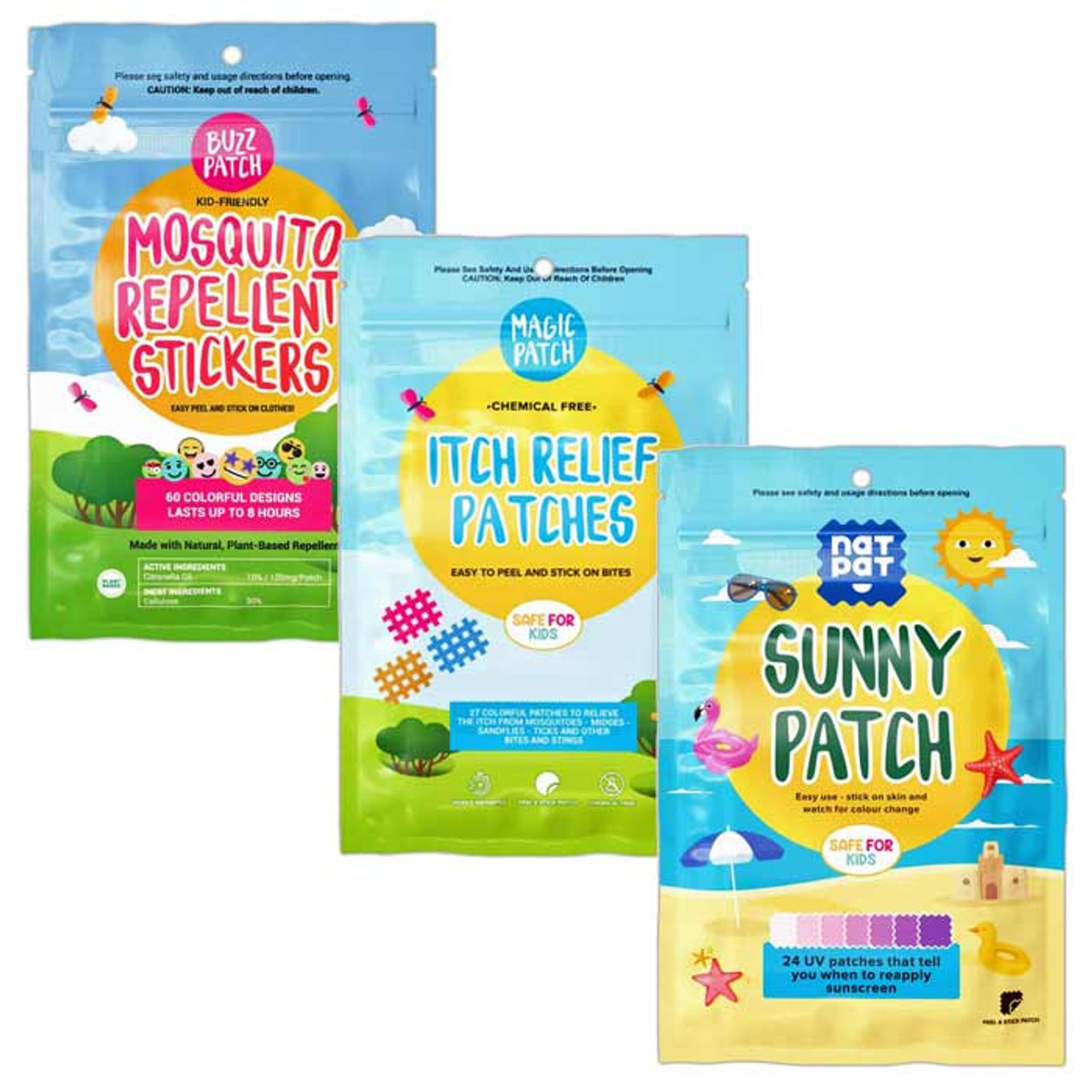 Are pesky bugs ruining your outdoor adventures? Does the thought of scratching a mosquito bite make you cringe? Are you searching for a natural solution to protect your child's or your skin from harmful sun rays?

Look no further than Natural Patch Co's, a trusted brand, Natural Patches now at Homestead Market! Natural Patches are adhesive patches or stickers made with natural ingredients including essential oils or high-tech technology to specially address the troubles we encounter on a daily basis. Homestead Market has selected 3 incredible patches from the Natural Patch Co to launch in June and July! We are pleased to offer to you: Buzz Patch, Itch Relief Patch, and Sunny Patch.

Let's explore these innovative natural patches and discover why they are a must-have for children and everyone who loves spending time outdoors!
Buzz Patches or Mosquito Repellent Stickers: These patches are specially formulated to repel mosquitoes, gnats, and other annoying insects. They contain the powerful natural essential oil citronella, which creates a protective shield around your body.
Itch Relief Patch or Magic Patch: Say goodbye to itchy insect bites with these soothing patches. These Itch Relief Patches start working within 30-60 seconds to relieve the itch caused by insect bites. The best part is they can last for up to 7 days and are completely waterproof! The Patches contain no chemicals or essential oils. They work kinesthetically! A scientifically engineered Grid-Relief Technology uses a mechanical action that lifts the skin to help drain the lymphatic system to release biochemicals that cause the itch sensation – pretty neat!
Sunny Patch or NatPat: The SunnyPatch is a 100% natural, UV-detecting patch that can protect your child from sunburn. Just stick a patch onto your child's skin or your own skin, when your kids go out to play and then apply your favorite sunscreen. Its changing color will tell you when it's time to apply more sunscreen!
Use them for outdoor adventures: Whether you're hiking, swimming, camping, gardening, or simply enjoying a picnic in the park, these patches will be your ultimate companions. They provide hassle-free protection and relief, allowing you to fully embrace nature without worrying about pesky bugs, itchy bites, or sunburn.
Suitable for all ages and sensitive skin types: Natural Patches Co has designed these patches to be safe and effective for everyone. From children to adults, anyone can benefit from the natural protection and soothing qualities of these patches. They are gentle on the skin and free from harsh chemicals, making them suitable for even the most sensitive individuals.
Perfect for travelers: If you're planning a trip to a mosquito-prone area or a sunny destination, make sure to pack these patches in your travel essentials. They are lightweight, easy to apply, and take up minimal space, ensuring you can enjoy your vacation without any discomfort or worries. They come in a resealable bag so you can just pinch to seal the bag back up, and you are on your way!
Natural and eco-friendly: Natural Patches Co prioritizes the use of natural ingredients and sustainable practices. These patches are free from harmful chemicals, DEET, and other synthetic additives. By choosing these patches, you not only protect yourself and/or your children but also contribute to a healthier planet.
Trusted and reliable: Natural Patches Co has gained a reputation for providing high-quality, effective, and natural solutions for many occasions and scenarios. Their products have been trusted by countless individuals who prioritize the power of nature in their skincare routine.
Convenient availability: Looking to purchase these incredible patches? Look no further than here at Homestead Market. We stock 3 of Natural Patches Co products, including Buzz Patches, Itch Relief Patches, and Sunny Patches. You can easily find these patches online for doorstep delivery.
Incorporate The Natural Patch Co's Buzz Patch, Itch Relief Patch, and Sunny Patch into your outdoor emergency pack and bid farewell to bugs, itching, and sunburns! You can find these great natural patches and stickers here at Homestead Market! Embrace the power of nature and enjoy the great outdoors without any worries or discomfort.

Shop Here!
Recent Posts
Small Wins Gummies are great tasting, healthier than traditional gummies, low-sugar, plant-based and

Are pesky bugs ruining your outdoor adventures? Does the thought of scratching a mosquito bite make