What is Terry Naturally DIM Complex with BCM-95® Curcumin?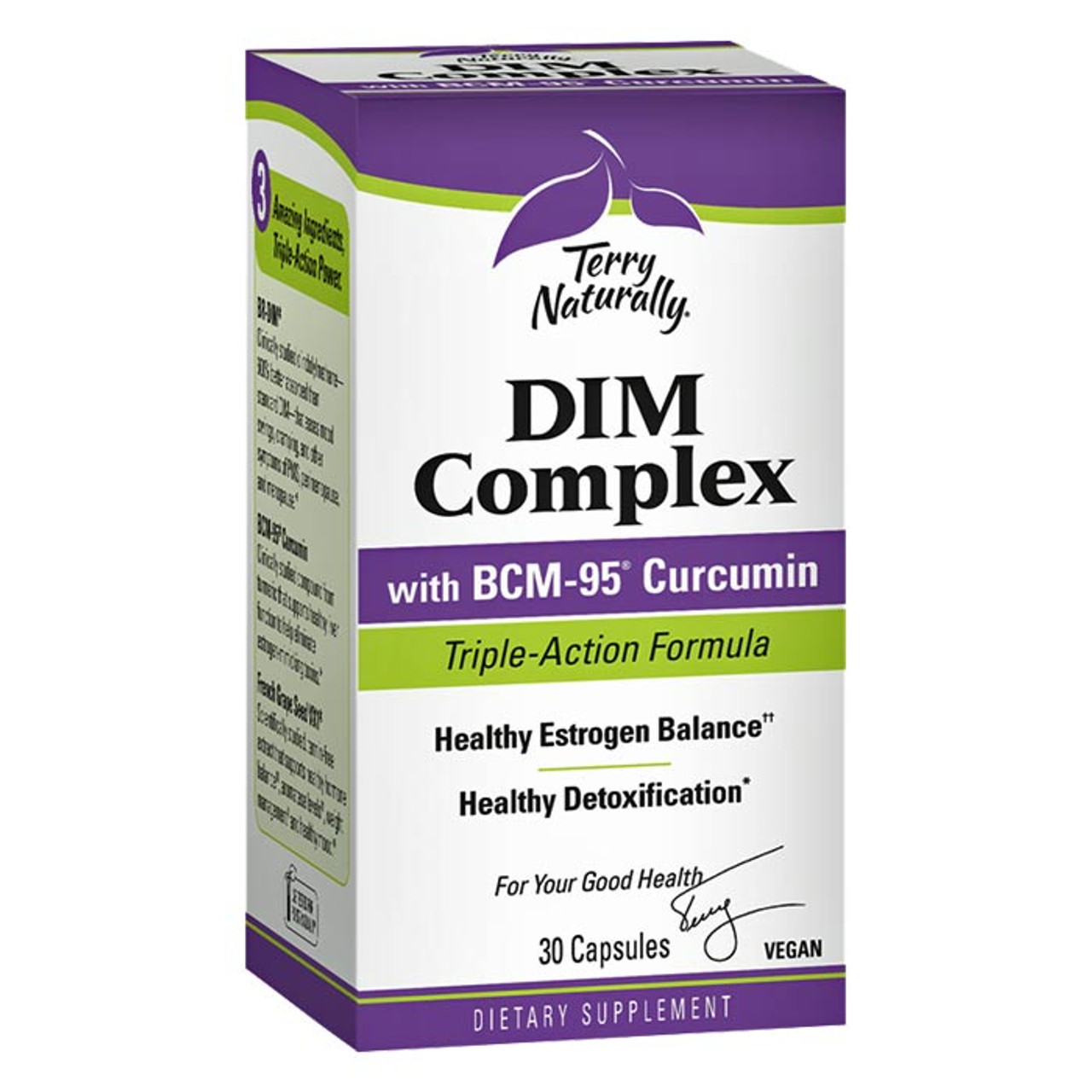 Terry Naturally's DIM Complex with BCM-95 Curcumin is a newer product from Terry Naturally that boasts a triple-action formula to help balance hormones for women of all ages.
It is widely known that a healthy hormone balance is crucial. Without balanced hormones, our moods, weight, energy level, and general well-being can make our bodies feel overwhelmed and out of sync. That is why Terry Naturally created DIM Complex with BCM-95 Curcumin.
What is the Triple-action formula in Terry Naturally's DIM Complex?
The triple-action formula is made up of BR-DIM®, BCM-95® Curcumin, and French Grape Seed VXI®. So, what do those ingredients do?
BR-DIM is a clinically studied diindolylmethane. It is 600% better absorbed than standard DIM. What does that mean? It helps to reduce mood swings, lessen cramping, and improve other symptoms of PMS, perimenopause, and menopause.*
BCM-95 Curcumin is a clinically studied compound derived from turmeric that is known to support healthy liver function where it helps eradicate estrogen-stimulating toxins.*
French Grape Seed VX1 has also been scientifically studied. It is a tannin-free French grape seed extract that supports healthy hormone stability(tt), aromatase levels(tt), healthy mood*, and weight control(t).
Why Choose Terry Naturally's DIM Complex over other products on the market?
DIM Complex with BCM-95 Curcumin helps relieve symptoms caused by PMS, perimenopause, and menopause.*
DIM Complex helps to maintain healthy liver function and hormone detoxification.*
It encourages healthy progesterone and estrogen ratios.*tt
DIM supports healthy weight management and healthy metabolism*t
What is the serving size of Terry Naturally's DIM Complex?
It is recommended that 1 capsule be taken daily with food. If needed, you may increase to 1 capsule twice daily with food. However, if you are pregnant or nursing, please do consult a healthcare practitioner before using.
What are the capsules made of?
The capsules are vegetable cellulose capsules.
This Terry Naturally supplement is Vegan and Non-GMO. It also does not contain: sugar, salt, yeast, wheat, gluten, soy, dairy products, artificial coloring, artificial flavoring, nor artificial preservatives. This DIM Complex contains only naturally and other premium ingredients.
What else is in this Terry Naturally DIM Complex?
There is a proprietary complex of 250 mg made up of Curcumin (Curcuma longa) Rhizome Extract (BCM-95/Curcugreen®) enhanced with turmeric essential oil and standardized for curcumidoid complex (curcumin, demethoxycurcumin and bisdemethoxycurcumin), French Grape (Vitis vinifera) Seed Extract (VX1®) standardized to contain greater than 99% polyphenols and greater than 805 OPCs (Tannin Free).
Additionally, it has 120 mg of BR-DIM® which is a proprietary, enhanced bioavailability complex containing starch, a minimum 25% diindolymethane [30 mg], Vitamin E, phosphatidylcholine, and silica.
Other ingredients include cellulose powder, hydroxypropyl methylcellulose (vegetable capsules), silica, and vegetable source magnesium stearate.
It is always lab tested for purity and quality – the promise of the Terry Naturally brand.
If you are looking for Terry Naturally's DIM Complex with BCM-95 Curcumin Triple-Action formula, look no further than Homestead Market! This is 1 of many products we carry in the Terry Naturally line.
*These statements have not been evaluated by the food and drug administration. This product is not intended to diagnose, treat, cure or prevent any disease.
BR-DIM® is a registered trademark of and licensed from BioResponse, L.L.C., Boulder, CO.
(t) In conjunction with a healthy diet and exercise regimen.
(tt) Supports healthy levels already within normal range.
Jana Duval is the Marketing Manager at Homestead Market
Find us on Facebook!
Recent Posts
Small Wins Gummies are great tasting, healthier than traditional gummies, low-sugar, plant-based and

Are pesky bugs ruining your outdoor adventures? Does the thought of scratching a mosquito bite make